The Harbour Light of the Windwards is a non-profit, non-commercial, Christian radio facility located at Tarleton Point on the Northeastern slope of Carriacou. Our purpose is to glorify the Lord Jesus Christ as God, the Creator; to lift Him up as the only Way to be saved from sin and God's impending judgment; to teach true believers in the Lord Jesus Christ how to walk obediently, in holiness, and in anticipation of our Lord's soon return; to encourage separated local churches to remain faithful to God and His Word in the midst of apostasy; and to provide educational and public service programmes.
Carriacou, along with Petit Martinique, are separate islands which are part of Grenada, the main island. Carriacou has approximately 8560 square acres and is inhabited by nearly 7000 people with three distinct European influences. A French influence is found in the South, Scottish in the Northeast, and British on the Western side. The two main sources of income are boating (fishing and trading) and farming. The language is English with a flavour of the area of influence.
We are presently using a 100% solid state Nautel XR-12 AM transmitter. Our audio processor is a two stage CRL system with the NRSC pre-emphasis. The antenna is a quarter-wave, series-fed, monopole 55 meters in height with an above-ground tuned radial (raised radial) ground system that uses only 4 wires 55 meters in length perpendicular to each other and raised 5 meters above the ground for our frequency of 1400Khz. The computer models show that it is as good or slightly better than the conventional ground system with 120 radials buried in a circle around the tower. Our tests have proved this also. The beauty of this system is its ease of installation, maintenance and low cost. We use a standard "tee" matched ATU (antenna tuning unit) for matching the tower to the transmitter. We went on the air on 1 December 1991.
Our present schedule for our AM broadcast is: 5:00 AM to midnight (local time) 09:00 UTC to 04:00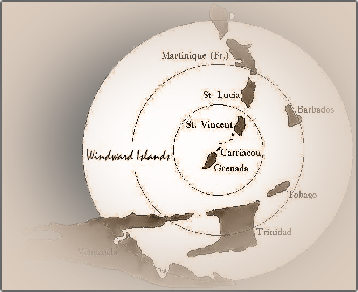 UTC
Our primary coverage (0.5mv/m) area includes a 300km (250mi) radius. We've received signal reports from all the Islands in our coverage area, South America, and Europe. Our FM transmitters are 250 watt Crown, which are on 24 hours daily (94.5, 92.3MHz), and cover primarily Grenada, Carriacou & the Grenadines. Our programmes are primarily Bible preaching and teaching in nature, however, we have science programmes, drama programmes, programmes on the family and home, daily classical music programmes, weather, and world news from the BBC. We were the only radio station in Grenada to remain on the air during Hurricanes Ivan & Emily on September 7, 2004 and July 16, 2005.
For more than 27 years, we used a Nautel ND5 5kw solid state transmitter - pictured in the gallery below - with the control rack on the left. It was installed new in October of 1991 and was in operation until April 27, 2019. It operated nearly flawlessly for ten years before we had our first real trouble. The capacitors in the combiner failed which caused damage to the other components in the cabinet. Most of our trouble has resulted from overheating due to failure of the A/C in the room. Our engineer fitted it with a high temp shut-off which has saved the combiner from "melt down" several times. We have been experiencing "aging" problems with drying electrolytic capacitors for several years now, so looked into replacing it.
On April 27, 2019, we installed a slightly used Nautel XR-12 which we purchased from the former government station in Grenada. Our engineer converted it to our operating frequency and re-commissioned it at 5kw for our AM service. Since this transmitter is capable of 10kw, we are considering increasing power sometime in the future, Lord willing.
The Audio/FM rack houses our AM monitor (GM car radio) with a Radio Shack amp for 70 volt air monitor distribution. Below the radio and amp is the first stage of our CRL audio processor. Below the CRL is an old "DAP" (discriminate audio processor) which is there for backup. Below the DAP is the first stage of our Crown 250w FM repeater system. It operates on 92.3Mhz as a link to our 94.5Mhz translator (another Crown 250w) in Grand E'tang, Grenada. We use a modified 3 element vertical yagi SCALA antenna in Carriacou and a single bay, circularly polarized SWR antenna in Grand E'tang. For you old-timers, that is a General Radio AM Modulation monitor in the rack on the left of the AM transmitter which still "sort-of" works. It needs rectifier tubes.