What a welcome sight to the weary seaman out on the wild stormy deep in th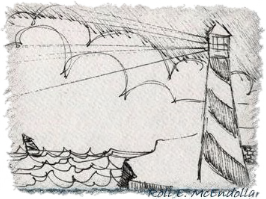 e night. That beam of light piercing the darkness guides him safely into the harbour where he anchors and finds protection and security and shelter and rest.
The Harbour Light of the Windwards sends out a beam of Light to the islands in the southern Caribbean Sea and beyond with the invitation that "whosoever will may come." This is no manmade light, for the Harbour Light beams out the Light and Truth of God's eternal Word. Neither is this a manmade harbour, for this spacious Harbour is none other than God Himself, the Lord Jesus Christ.
Our logo depicts the decision that each person must make in regard to the Lord Jesus Christ. The ship's wheel illustrates the ability each person has to choose which way to go. But without the Light of God's Word, all will perish because they cannot see. Our logo says "Steer for the Harbour Light."
Over The Dead-Line
By Virginia W. Moyer
O sinner, the Saviour is calling for thee!
Long, long has He called thee in vain.
He call'd thee when joy let its crown to thy days,
He call'd thee in sorrow and pain.
Chorus:
O turn while the Saviour in mercy is waiting
And steer for the Harbour Light!
For how do you know but your soul may be drifting
Over the dead-line tonight?
O sinner, thine ears have been deaf to His voice!
Thine eyes to His glory been dim.
The calls of thy Saviour have so wearied thee,
O what if they should weary Him?
O sinner, the Spirit is striving with thee.
What if He should strive never more?
But leave thee alone in thy darkness to dwell
In sight of the heavenly shore?
O sinner God's patience may weary some day
And leave thy sad soul in the blast!
By willful resistance you've drifted away -
Over the dead-line at last.
Clearly presents the Gospel, the narrow charted course to God's Heaven.
Makes available the only accurate map for a victorious voyage through the Christian life (the Bible).
Exposes the devil's dangerous submerged rocks and reefs that would shipwreck the soul.
Signals detailed instructions on how to successfully navigate in any storm of life.
Operates from an immovable position on the Word of God.